Join Our Spectacular Holiday Tour December 27, 2023 – January 11, 2024
When: December 27, 2023 – January 11, 2024
Led by Led by Cathie Dunklee-Donnell
with Lee Otterholt 
Featuring:

Ring in the New Year with a bang at Skanderbeg Square. Brace yourself for mind-blowing fireworks and festivities that will leave you breathless! And guess where you'll be partying? From the swanky Tirana International Hotel Executive Suite (aka Cathie's room, the party central)!
But that's not all! Enhance your dancing prowess with none other than the legendary Folkdance Guru, Lee "Olympic Choreographer" Otterholt. No matter what your dancing ability, he'll have you folk dancing with great style in no time!
I can't wait to go!  Reserve my place with my $200 deposit per person. See registration form and information below.  
Or register through PayPal (no PayPal account necessary)
Wait, there's more. Picture this: You, dancing your heart out at the magnificent Toptani Castle, alongside the one and only Maestro of Albanian Folk Dance Ensemble, Genci "Rock Star" Kastrati. He is the rock star of European folkdancers. It's going to be a dance extravaganza!
But we're not done yet! Prepare to meet and dance with folk dancers from Italy and all over Europe at the ultimate European dance extravaganza – Roberto Bagnoli's Balkanot! Roberto has invited best international  And the setting couldn't be more perfect: the enchanting shores of the beautiful Lake Garda in Italy. It's going to be a dance adventure like no other!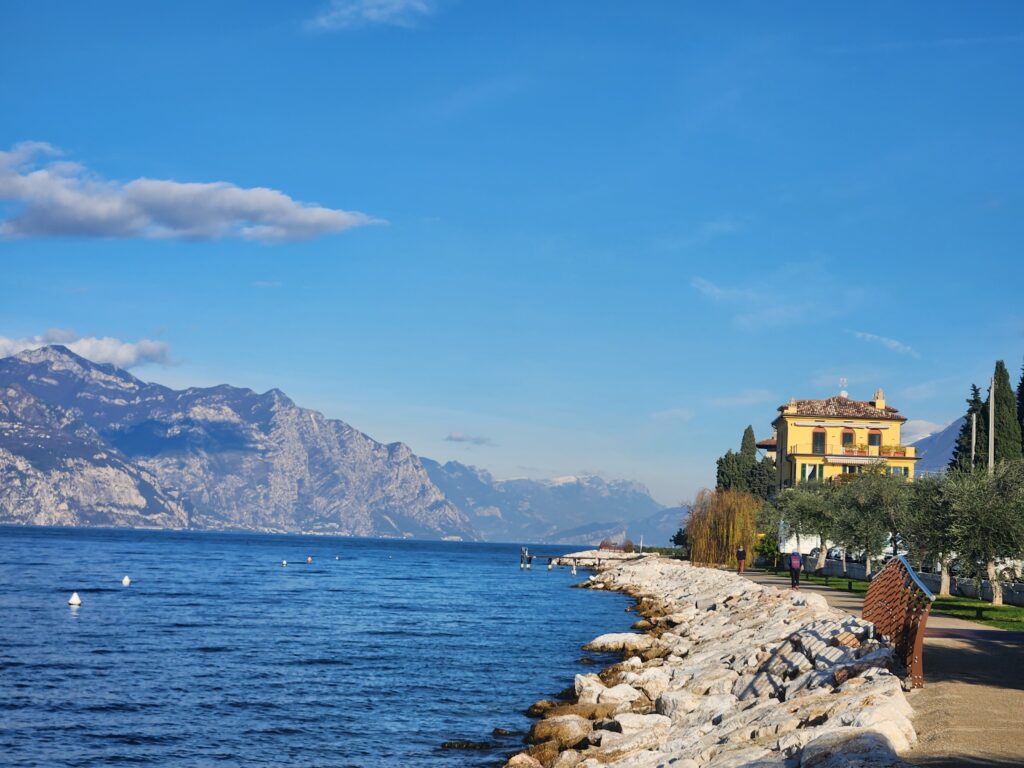 So, let loose, groove to the rhythm, make new friends, and experience the magic of folk dancing like never before. Get ready to rock the dance floor with unforgettable memories that will have you dancing through life!
---
OUR ITINERARY:

Day 1: Wednesday,  December 27: Depart on airline of your choice for Tirana, Albania. Rest up for an adventure as you've never experienced before.
Day 2:  Thursday, December 28:  Arrive in the vibrant capital Tirana and take a taxi to the Tirana Hotel International.
Gather at the hotel lobby at 6 pm for our introductory meeting. After our meeting, we'll take a short walk to  Shije Fshati (Taste of the Village) restaurant to indulge in delectable Albanian cuisine. Later, we'll dance in Skanderbeg Square and then stroll along the boulevard to admire the glorious holiday lights that our everywhere-you-look. Prepare to be deeply moved by holiday elation and merrymaking.
Day 3: Friday, December 29 – Tirana Morning Adventure – Coffee, Companionship, and Captivating Sites!
8:00 am: Breakfast at the hotel. You won't believe the pastries, breads, Albanian pancakes, variety of cheeses, fresh fruit and veggies, eggs, and most unbelievable, the view from the balcony.
9:00 am: Experience Albania in a detailed, close-up look of a nearby neighborhood, and meet some of the friendly locals. Follow Cathie to see five coffee shops that are all on one block and all the retail shops you need to buy items for your adventure: fruit, water, snacks, toiletries, and souvenirs. Find the coffee shop that has larger American-style coffees. See the Nine-Story Communist Era building.  Have a tiny espresso or Americano coffee at the best coffee shop on the block.
10:00 am: Take a walking tour with our expert and friendly guide to see the best sites in Tirana.
Go into the one of the only mosques not destroyed by Enver Hoxha's regime.
Find your holiday read at an excellent bookstore that has hundreds of the best in English books. Climb the clock tower or wave to the hardiest members of our tour while you relax below. Visit the Japanese structure that was a gift to the Albanian people from Japan.
See some of the creative architecture for which Tirana is known.
Climb the pyramid. See a bunker from communist days.
See part of the Berlin wall. Visit a posh dentist office that caters to dental tourists. See the dictator Enver Hoxha's house in the Blloku area.
Go inside and meditate in the beautiful Orthodox cathedral.
Eat lunch as a group at the Taiwan Centre.
2:00 pm: Rest at the hotel for an hour then accompany Cathie to a local cafe that has the best byrek and strudel. Check out the local market. See the butchers, the bakers, the candlestick makers. Visit veggie stands with the freshest produce anywhere.
4:00 pm: Then dance with Genci and Lee for one-on-one and group instruction.
7:00 pm: Eat dinner at one of the stands on the Skanderbeg Square holiday grounds.
December 30 – 🏢🏞️ From Bunkers to Peaks: Unveiling Albania's History at Bunk'Art and Ascending Dajti Mountain by Gondola 🚡
9 am: Breakfast at the hotel.
10 am: Our bus will take us to Bunk'Art, a unique museum within the depths of a Cold War-era bunker. This subterranean labyrinth unveils the clandestine history of Albania, offering a glimpse into the country's past through immersive exhibitions and interactive displays. As you wander through the tunnels and chambers, you'll be transported back in time, surrounded by artifacts and stories that shed light on a pivotal era.
Then, to the Gondola up Dajti Mountain. Will eat lunch at the restaurant with gorgeous views of Tirana.
4 pm: Arrive back at the hotel.
4:30 pm: Dance with Genci and Lee.    
7 pm: Dinner at Pasta E Basta.
December 31 – 🎉🏨 Ring in the New Year at Tirana International Hotel: A Spectacular Fireworks Celebration 🎆
9 am: Breakfast at the hotel.
10 am: Take a walk as a group to some surprise locations. Take photos for photo contest.
1 pm: Eat lunch on your own.
2 pm: Rest up for the New Year's Eve party.
8 pm: Dinner in the Executive Suite followed by New Year's Eve Party in Party Central, Cathie's room!
12 am: Fireworks out the window! Party till the wee hours. The most daring might go dance in the Square with live music.
Land Only: $4995
REGISTRATION FORM: I can't wait to go! Enclosed is my registration deposit of $200 per person.  Single supplement: $945. Hotel taxes and service charges: $185. Gratuities not included. Program subject to change without notice. Cancellation 90 days prior to departure: Total refund: Less than 90 days: No refund. Travel insurance is recommended.
Total balance due January 10, 2024
Name_____________________________________________________
Address______________________________________________________
No. of people_______Phone_(_____)___________________________________
Make checks payable to: Jim Gold International, 497 Cumberland Avenue, Teaneck, NJ 07666 U.S.A Phone (201) 836-0362. Web site: www.jimgold.com E-mail: jimgold@jimgold.com
---
JIM GOLD INTERNATIONAL: TERMS AND CONDITIONS
Air Transportation: International air not included except as noted.
Rates: Tour rates are subject to change in the event of currency fluctuations or increase in costs. Inclusive tour rates are per person in double occupancy. In case of computer or human billing errors, we reserve the right to re-invoice clients with corrected billing.
Reservations: Deposits and Payments: Deposit of $200 per person is required at time of reservation. Balance is due 90 days prior to departure date.
Changes: Prices and program subject to change without notice
Baggage: One baggage per person and a carry on is allowed.
Cancellations: Cancellations 90 days prior to departure: Total refund. Less than 90 days: No refund. . Travel Insurance is non-refundable as are unused services.
Gratuities: Tipping to guides, drivers, transfer personnel and hotel staff is left to the discretion of the participants and is not included.
Insurance: Tour participants are strongly recommended to purchase insurance for trip cancellation, trip interruption, accident, sickness and/or loss of baggage and personal effects.
Dispute Resolution: The sole and exclusive method of resolving any dispute which might rise under this agreement and any agreement between Jim Gold International, Inc., and another party (ies), the brochure or website and deemed to arise in the United States of America, shall be by arbitration before the American Arbitration Association in New York City pursuant to the Association's rules then in effect. Any such arbitration must take place in N.Y.C., N.Y. In any such arbitration, the substantive law of N.Y. will apply. In the event a tour participant should find a service or hotel unacceptable, it should be reported immediately to the local representative and to Jim Gold International, Inc. upon their immediate return. No claim shall be deemed legitimate if not reported to the local representative and if reported after the scheduled service or after departure from the hotel.
Responsibility: Jim Gold International, Inc. Of 497 Cumberland Avenue, Teaneck, NJ 07666 U.S.A acts solely in its capacity as marketing agent on behalf of its suppliers such as air carriers, ground operator, taxi suppliers, motor coach suppliers, excursion or tour companies and hotels identified on documents supplied in connection with purchase of the tours. Jim Gold International, Inc. shall not be held responsible for any wrongful or negligent acts or omissions by any supplier or other party not directly owned or exclusively controlled by Jim Gold International, Inc. or by the failure of any equipment operated by any such supplier or other party. Jim Gold International, Inc. shall not be liable for any loss, injury or damage to person, property or otherwise, in connection with any accommodations, transportation, or other services, resulting directly or indirectly from any acts of God, dangerous incident to the sea, fire, breakdown of machinery or equipment, acts of government or other authorities, wars whether or not declared, hostilities, civil disturbances, strikes, riots, thefts, pilferage, epidemics, quarantines, medical or customs regulations, defaults, delays or cancellations of or changes to itineraries or schedules, or from any causes resulting from insufficient or improperly issued passports, visas, or other documents passports, visas, or other documents.
Neither Jim Gold International, Inc. nor any of its affiliates or subsidiaries shall be or become liable or responsible for any additional expenses or liability sustained or incurred by the tour member as a result of any of the aforementioned causes. Tour participant agrees that any claim against Jim Gold International, Inc. is subject only to the jurisdiction of the courts of the country in which the cause of action arose. The right is reserved to substitute hotels and to alter itineraries. The right is also reserved to cancel the tour prior to departure. If any tour is canceled prior to departure, Jim Gold International, Inc. will be responsible only up to the amount of monies Jim Gold International, Inc. received less any cancellation fee applied by a supplier as defined above. Travel Insurance is recommended.
Jim Gold International, Inc. is not responsible or liable for defaults of those not directly under the exclusive control of Jim Gold International, Inc.
All tickets and vouchers issued for transportation and services are subject to the terms and conditions under which such transportation and services are provided to the participant by the owners or contractors. The traveler assumes full responsibility for, and hereby releases Jim Gold International, Inc. from any duty of checking and verifying any and all passport, visa, vaccination or other entry requirements for each destination, and all safety and security conditions during the length of the proposed travel. Should any clause contained here in be determined void by any court of law, such a finding shall not affect the other clauses contained herein; each clause is a covenant which stand on its own. The receipt of your deposit and/or final payment will indicate that you have read these Terms and Conditions, and that you have agreed to them. Prices are subject to change.
Jim Gold International, Inc. 497 Cumberland Avenue, Teaneck, NJ 07666 U.S.A.
Phone: (201) 836-0362 www.jimgold.com e-mail: jimgold@jimgold.com